Hearts, Diamonds, Clubs, Spades, Knight, Queen, King, and obviously Jack. This is not a four color deck, but the Bolaffi's series of covers with playing cards. Signed by Rafael Alberti, Mauro Reggiani, Concetto Pozzati, Achille Perilli, Vladimir Velickovic, Claudio Parmiggiani, Flavio Costantini and Ben Vautier.
The Hearts holds the signature of Rafael Alberti, Spanish poet and painter of italian origins. He was a true antifranchist and due to his political envolvement, he spent almost fourty years on exile in France, Argentine and eventually Italy. He managed to come back to his country just when Caudillo  died.
The Diamonds is an artwork of Mauro Reggiani, who also signed Zero of Bolaffi's Arabic Numbers.  Originary of Nonantola, he is one of the major protagonists of non figurative art in Italy. (He is indeed among the signers of the First Manifesto of Abstractism).
For the Clubs, Concetto Pozzati picks a representation of the suit and a rose. He was born close to Padova, but he lived in Bologna. During his life, Pozzati was a painter, a teacher, educator, and even the council member of culture in Bologna (1993/96). After an informal approach, he went for the Pop Art and Surrealism. 
In Spades there is the unique brush of Achille Perilli, Gruppo Forma 1 and Age d'Or Gallery 's founder. Perilli is the point of reference for abstractism in Italy, characterized by personal geometric shapes and bright colors preferred by the artist to euclidean geometry.
The Knight of Bolaffi playing cards is signed by Vladimir Velickovic, who was born in Serbia in 1935, but lived and worked in Paris. Gratuated in Architecture at the University of Belgrado, he is one of the most famous artists of the narrative figuration movement. 
Claudio Parmeggiani is the author of the Queen. Born in Luzzara, is the artistic father of extremely iconic installations made out of various materials. His research gets close to Poor and Conceptual Art alike, expressing itself with an unusual language.
Flavio Costantini's King resembles the classic look of the playing cards but in its "double" the sovereign finds a skeleton as in a memento mori. Born in Rome, Costantini has been a self-taught painter and illustrator. He has combined figuration with eclectic perspectives and irregular proportions.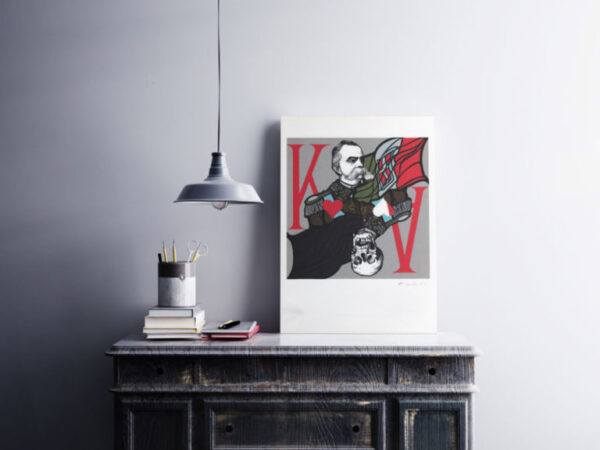 Eventually Ben Vautier is the author of the Jocker. Born in Naples, he traveled for a long time, representing one of the major exponents of the anti-art. Fluxus Active member and multifaceted artist, he was ironic and provocative in the research of the Truth.
Tags: