Joseph Beuys, Mario Schifano, Robert Rauschenberg, Jim Rosenquist, Ugo Nespolo, Edward Kienholz: these are the artists of the Bolaffi series dedicated to the Senses. Effectively they are not just five but six.
Generally speaking the "sixth sense", refers to that intuitive leap that is mediumistic in a way. However, if it is true that there are only 5 senses in nature, – hearing, taste, touch, smell and sight- then any ability other than the classic one can be classified as a sixth sense.
In this case, for Bolaffi's covers there is one absolutely commonplace and as so quite meaningful: the Intuitive Business. 
The five senses: artists comparison
The hearing is represented by Joseph Beuys through a self portrait with garish headphones. After all, what better solution for a shaman-Artist, who is used to be a medium?
The taste by Mario Schifano, instead, brings back to the Pop Art basics, as in the repetition. A female mouth which tastes some food, inevitably evoking sexual suggestions. Both for what is is eaten and also for the provocative image of red colored lips. A kind of temptation which perfectly matches the bold personality of the damned Italian Pop Artist.
The myth of the American Pop Art, Robert Rauschenberg, presents instead quite a faint shaded work. His Touch evoques to the audience a rough touch by means of folds and ripples.
James Rosenquist, another great exponent of the American Pop Art, develops the Smell through a multicolor fragmented composition. This one seems to ripple the surface and it is characterized by an elegant scent.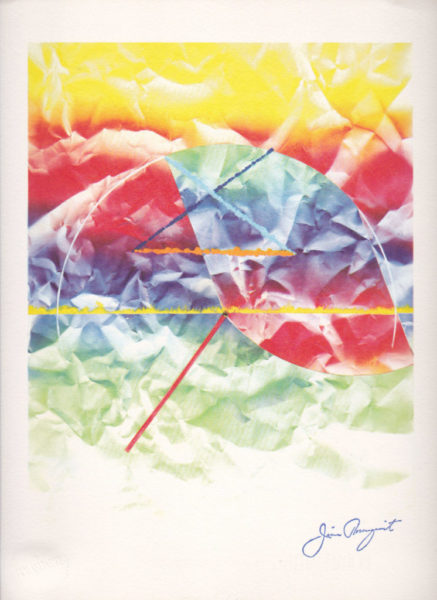 A multifaceted Ugo Nespolo gives the "Sight" a vivid pink of a face and pictures a giant eye on it. The eye is also entoured by lashes, reminding of leaves. This pupil with its "vegetal" looking reflects the image of an ancient painting from the seventeen century. An intersection of female bodies that evoke Ingres' virtue for composing.
The sixth sense: Edward Kienholz's dollars
The Business intuition instead is given to one of the artists who has mostly taken the side against the industrial and commercial world beloved by the Pop Art and the Minimalism: Edward Kienholz.
A critical writer of the dark side also obsessed by the economical model is Kienholz. To represent such a particular sixth sense, KIenholz uses a figure which is apparently iperbolic but it is soon turned down by a small text across it: One Five Thousandth of $ 200.00 it is indeed equal to… 4.

Tags: